Gonadal histology of the tiger barb Puntius tetrazona (Cyprinidae)
Sezgi Arman

Department of Biology, Faculty of Arts and Sciences, Sakarya University, Sakarya, Turkey

https://orcid.org/0000-0002-4247-0639

Sema İşisağ Üçüncü

Department of Biology, Faculty of Science, Ege University, Izmir, Turkey
Keywords:
Puntius tetrazona, tiger barb, ovary, testis, histology, gonadal stages
Abstract
The ornamental fish industry constitutes a big portion of the economy in many countries of the world. Thousands of attractive fish species are traded annually. The tiger barb Puntius tetrazona is one of the most charming freshwater aquarium species worldwide. The present paper aimed at expanding the knowledge of the reproductive biology of this tropical fish. The ovary and the testis tissues of the tiger barb were embedded in paraffin following routine histological processes, stained with hematoxylin and eosin and Mallory's trichrome techniques, and investigated by light microscopy. Histological examinations confirmed asynchronous-type ovaries resembling four different developmental stages including primary growth, cortical alveolar, vitellogenic and maturation. In the testis, primary spermatogonia, secondary spermatogonia, primary spermatocytes, secondary spermatocytes, spermatids and spermatozoa were identified. All oogenetic and spermatogenetic phases and mature germ cells occurred simultaneously in the tiger barb. This feature allows this tropical fish to breed rapidly and helps expanding its global trades.
References
Barik M, Bhattacharjee I, Ghosh A, Chandra G (2018) Larvivorous potentiality of Puntius tetrazona and Hyphessobrycon rosaceus against Culex vishnui subgroup in laboratory and field based bioassay. BMC Research Notes 11(1): 804.
Blazer VS (2002) Histopathological assessment of gonadal tissue in wild fishes. Fish Physiology and Biochemistry 26(1): 85–101.
Booth AJ, Weyl OL (2000) Histological validation of gonadal macroscopic staging criteria for Labeo cylindricus (Pisces: Cyprinidae). African Zoology 35(2): 223–231.
Brewer SK, Rabeni CF, Papoulias DM (2008) Comparing histology and gonadosomatic index for determining spawning condition of small‐bodied riverine fishes. Ecology of Freshwater Fish 17(1): 54–58.
Çakıcı Ö, Üçüncü Sİ (2007) Oocyte development in the zebrafish, Danio rerio (Teleostei: Cyprinidae). Su Ürünleri Dergisi 24(1): 137–141.
Dopeikar H, Keivany Y, Shadkhast M (2015) Reproductive biology and gonad histology of the Kura Barbel, Barbus lacerta (Cyprinidae), in Bibi-Sayyedan River, Tigris Basin. North-Western Journal of Zoology 11(1): 163–170.
Galib SM, Imam MA, Rahman MA, Mohsin ABM, Fahad MFH, Chaki N (2013) A study on aquarium fish business in Jessore district, Bangladesh. Trends in Fisheries Research 2(3): 11–14.
Galib SM, Mohsin ABM (2010) Exotic ornamental fishes of Bangladesh. Bangladesh Journal of Progressive Science and Technology 8(2): 255–258.
Grandcourt EM, Al Abdessalaam TZ, Francis F, Al Shamsi AT, Hartmann SA (2009) Reproductive biology and implications for management of the orange‐spotted grouper Epinephelus coioides in the southern Arabian Gulf. Journal of Fish Biology 74(4): 820–841.
Guerriero G, Ferro R, Ciarcia G (2005) Correlations between plasma levels of sex steroids and spermatogenesis during the sexual cycle of the chub, Leuciscus cephalus L. (Pisces: Cyprinidae). Zoological Studies-Taipei- 44(2): 228.
Koc ND, Akbulut C (2012) Electron and light microscopic investigations of follicular epithelium in vitellogenic oocyte of zebrafish (Danio rerio). Pakistan Journal of Zoology 44(6): 1581–1586.
Koc ND, Teksöz N, Ural M, Akbulut C (2012) Histological structure of zebrafish (Danio rerio, Hamilton, 1822) testicles. Elixir Aquaculture 46: 8117–8120.
Kottelat M (2013) The fishes of the inland waters of Southeast Asia: a catalogue and core bibliography of the fishes known to occur in freshwaters, mangroves and estuaries. Raffles Bulletin of Zoology 27 (Suppl.): 1–663.
Montchowui E, Compère P, Thiry M, Laleye P, Philippart JC, Poncin P (2012). Histological assessment of gonad maturation in Labeo parvus (Teleostei: Cyprinidae) in Benin. African Journal of Aquatic Science 37(2): 155–163.
Muchlisin ZA, Musman M, Azizah MS (2010) Spawning seasons of Rasbora tawarensis (Pisces: Cyprinidae) in Lake Laut Tawar, Aceh Province, Indonesia. Reproductive Biology and Endocrinology 8(1): 49.
Munro AD, Li-Lian C, Nqankee K (1990) Preliminary observations on environmental control of ovulation and spawning in a small tropical Cyprinid (Barbus tetrazona). In Proceedings of the Second Asian Fisheries Forum, Tokyo, Japan (pp. 17–22).
Nasution SH (2005) Karakteristik reproduksi ikan endemik rainbow selebensis (Telmatherina celebensis Boulenger) di Danau Towuti. Jurnal Penelitian Perikanan Indonesia 11(2): 29–37 (in Indonesian).
Nasution SH, Sulistiono S, Soedharman D, Muchsin I, Wirjoatmodjo S (2007) Kajian Aspek Reproduksi Ikan Endemik Bonti-bonti (Paratherina striata) di Danau Towuti, Sulawesi Selatau. Indonesian Journal of Biology 4(4): 225–237 (in Indonesian).
Norazila KS, Patimah I (2002) Mitochondrial 16S and 12S rRNA/tRNA-Val gene analysis in tiger barbs (Puntius tetrazona). OnLine Journal of Biological Sciences 2(11): 754–756.
Paugy D, Lévêque C (1999) La reproduction. In: Lévêque C, Paugy D (eds.), Les poissons des eaux continentales Africaines. Diversité, écologie, utilisation par l'homme (pp. 130–151). Paris: Éditions de l'IRD (in French).
Rodrìguez RDR (2006) Ornamental fish: economic, ecologic and health implications of the trade. JAINA Boletin Informativo 16(1): 6–27.
Roosta Z, Hoseinifar SH (2016) The effects of crowding stress on some epidermal mucus immune parameters, growth performance and survival rate of tiger barb (Pentius tetrazona). Aquaculture Research 47(5): 1682–1686.
Rutaisire J, Booth AJ (2004) Histological description of ovarian recrudescence in two Labeo victorianus populations. African Journal of Aquatic Science 29(2): 221–228.
Sales J, Janssens GP (2003) Nutrient requirements of ornamental fish. Aquatic Living Resources 16(6): 533–540.
Shabanipour N, Hossayni SN (2010) Histological and ultrastructural study of zona radiata in oocyte of common carp Cyprinus carpio (Linnaeus 1758). Micron 41(7): 877–881.
Smith BB, Walker KF (2004) Spawning dynamics of common carp in the River Murray, South Australia, shown by macroscopic and histological staging of gonads. Journal of Fish Biology 64(2): 336–354.
Vlok W (2005) Histological studies to evaluate gonad development in Barbus neefi (Cyprinidae), the sidespot barb, from South Africa. African Journal of Aquatic Science 30(1): 85–88.
West G (1990) Methods of assessing ovarian development in fishes: a review. Marine and Freshwater Research 41(2): 199–222.
Whittington RJ, Chong R (2007) Global trade in ornamental fish from an Australian perspective: the case for revised import risk analysis and management strategies. Preventive Veterinary Medicine 81: 92–116.
Zou P, Xu J, Wen C, Chen J, Deng L, He L (2011) Histological study on the ovary development of Varicorhinus gerlachi. Agricultural Science & Technology 12(7): 1039–1042.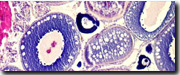 How to Cite
Arman, S., & İşisağ Üçüncü, S. (2020). Gonadal histology of the tiger barb Puntius tetrazona (Cyprinidae). Journal of Fisheries, 8(2), 817-822. Retrieved from http://journal.bdfish.org/index.php/fisheries/article/view/JFish20180
Section
Original Articles
Copyright (c) 2020 Journal of Fisheries
This work is licensed under a Creative Commons Attribution-NonCommercial-ShareAlike 4.0 International License.