Prevalence of white spot virus and monodon baculovirus in shrimp culture systems of West Bengal, India
Thangapalam Jawahar Abraham

Department of Aquatic Animal Health, Faculty of Fishery Sciences, West Bengal University of Animal and Fishery Sciences, Kolkata, India

https://orcid.org/0000-0003-0581-1307

Anjan Mondal

Department of Aquatic Animal Health, Faculty of Fishery Sciences, West Bengal University of Animal and Fishery Sciences, Kolkata, India

https://orcid.org/0000-0001-6285-427X

Avijit Patra

Department of Aquatic Animal Health, Faculty of Fishery Sciences, West Bengal University of Animal and Fishery Sciences, Kolkata, India

https://orcid.org/0000-0003-2034-9552

Harresh Adikesavalu

Department of Aquatic Animal Health, Faculty of Fishery Sciences, West Bengal University of Animal and Fishery Sciences, Kolkata, India
Keywords:
Penaeus monodon, Litopenaeus vannamei, Macrobrachium rosenbergii, white spot virus, monodon baculovirus, polymerase chain reaction
Abstract
The global shrimp aquaculture is impacted by episodes of viral diseases resulting in huge income losses. This communication presents the results of the polymerase chain reaction (PCR) based surveillance of white spot virus (WSV) and monodon baculovirus (MBV) in shrimp culture systems of West Bengal, India. The WSV was detected in 14.87% of the total samples (N = 121) by first PCR and 16.53% of samples by nested PCR. The WSV infection was noticed in 12 of 65 Penaeus monodon, 6 of 39 Litopenaeus vannamei and 2 of 11 Macrobrachium rosenbergii samples. The MBV was detected in 8 of 65 P. monodon samples by non-nested PCR and all were also positive for WSV, thus indicating concurrent infection of shrimp. The results emphasized the need to observe strict quarantine measures during the seed selection to prevent the introduction of viral pathogens in grow-out systems.
References
Abraham TJ, Sasmal D (2008) Incidence of different disease conditions in shrimp culture systems of West Bengal with special reference to white spot syndrome virus infection. Journal of the Inland Fisheries Society of India 40(2): 1–6.
Ananda-Raja R, Kumar S, Sundaray JK, De D, Biswas G, Ghosal TK (2012a) Haematological parameters in relation to sex, morphometric characters and incidence of white spot syndrome virus in tiger shrimp Penaeus monodon Fabricius, 1798 from Sunderban, West Bengal. Indian Journal of Fisheries 59(4): 169–174.
Ananda-Raja R, Panigrahi A, Kumar S (2012b) Epidemiological investigation of brackishwater culture systems in West Bengal, India. Journal of Applied Aquaculture 24(1): 49–59.
Anon (2019) Handbook on fishery statistics 2017–2018. Department of Fisheries. Directorate of Fisheries, Government of West Bengal, Kolkata.
Dutta S, Chakrabarty U, Mallik A, Mandal N (2015) White spot syndrome virus (WSSV) prevalence associated with disease resistance among wild populations of black tiger shrimp, Penaeus monodon (Fabricius). Aquaculture Research 46(2): 453–461.
Jose S, Mohandas A, Philip R, Bright Singh IS (2010) Primary hemocyte culture of Penaeus monodon as an in-vitro model for white spot syndrome virus titration, viral and immune-related gene expression and cytotoxicity assays. Journal of Invertebrate Pathology 105: 312–321.
Kalaimani N, Ravisankar T, Chakravarthy N, Raja S, Santiago TC, Ponnaiah AG (2013) Economic losses due to disease incidences in shrimp farms of India. Fishery Technology 50: 80–86.
Karunasagar I, Otta SK, Karunasagar I (1997) Histopathological and bacteriological study of white spot syndrome in Penaeus monodon along the west coast of India. Aquaculture 153: 9–13.
Lo CF, Ho CH, Peng SE, Chen CH, Hsu HC, Chiu YL, Chang CF, Liu KF, Su MS, Wang CH, Kou GH (1996) White spot syndrome baculovirus (WSBV) detected in cultured and captured shrimps, crabs and other arthropods. Diseases of Aquatic Organisms 27: 215–225.
Mishra SS, Shekhar MS, Azad IS (2005) Concurrent infection with WSSV and MBV in tiger prawn, Penaeus monodon (Fabricius) in West Bengal and their detection using PCR and dot-blot hybridization technique. Indian Journal of Biotechnology 4: 506–515.
OIE (2003) Manual of diagnostic tests for aquatic animals, fourth edition. Office International des Épizooties, Paris, France.
Rahman MM, Haque SM, Galib SM, Islam MA, Parvez MT, Hoque MN, Wahab MA, Egna H, Brown C (2020) Mud crab fishery in climate vulnerable coastal Bangladesh: an analysis towards sustainable development. Aquaculture International 28: 1243–1268.
Sahul-Hameed AS, Parameswaran V, Syed Musthaq S, Sudhakaran R, Bala-subramanian G, Yoganandhan K (2005) A simple PCR procedure to detect white spot syndrome virus (WSSV) of shrimp, Penaeus monodon (Fabricius). Aquaculture International 13: 441–450.
Shinn AP, Pratoomyot J, Griffiths D, Trong TQ, Vu NT, Jiravanichpaisal P, Briggs M (2018) Asian shrimp production and the economic costs of disease. Asian Fisheries Science 31S: 29–58.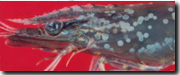 How to Cite
Abraham, T. J., Mondal, A., Patra, A., & Adikesavalu, H. (2020). Prevalence of white spot virus and monodon baculovirus in shrimp culture systems of West Bengal, India. Journal of Fisheries, 8(2), 861-864. Retrieved from http://journal.bdfish.org/index.php/fisheries/article/view/JFish20228
Section
Short Communications
Copyright (c) 2020 Journal of Fisheries
This work is licensed under a Creative Commons Attribution-NonCommercial-ShareAlike 4.0 International License.