Traditional fishing methods practiced by Ao and Sumi tribes in Dikhu River of Nagaland, India
Metevinu Kechu

Department of Zoology, Nagaland University, Lumami-798627, Zunheboto, Nagaland, India

Pranay Punj Pankaj

Department of Zoology, Nagaland University, Lumami-798627, Zunheboto, Nagaland, India
Keywords:
fishing craft, indigenous traditional knowledge, Naga communities, traditional fishing gears
Abstract
Traditional fishing knowledge dates back to the early fish catching techniques passed down from forefathers in most of the Naga communities, Nagaland. Traditional fishing is mainly practiced for household consumption and is considered less intensive than industrial fishing practices, which can negatively impact riverine sustainability. However, there is a risk of loss of traditional knowledge in recent times. Hence, an effort was made to comprehend and document the indigenous traditional knowledge associated with fishing practices utilized by the Ao and Sumi tribal communities residing along the banks of Dikhu River. The diverse array of traditional fishing equipment and techniques employed has been categorised based on their specific functions, resulting in the documentation of three types of fishing gears, four fishing accessories, one fishing craft and three other types of fishing techniques. However, in some regions, use of detrimental fishing like dynamites and harsh chemicals were encountered. The results indicate that local fishers continue to rely on indigenous fishing practices for sustenance, and the majority of traditional fishing gears are constructed using locally available eco-friendly materials such as bamboo, wooden poles and cotton twine. The information obtained in this study can be preserved and implemented in contributing better resource management.
References
Ao S, Dey SC, Sarmah SK (2008) Fish and fisheries of Nagaland. Bhabani Press, Guwahati.
Béné C (2003) When fishery rhymes with poverty: a first step beyond the old paradigm on poverty in small-scale fisheries. World development 31(6): 949–975.
Béné C, Arthur R, Norbury H, Allison EH, Beveridge M, … Williams M (2016) Contribution of fisheries and aquaculture to food security and poverty reduction: assessing the current evidence. World Development 79: 177–196.
Cochrane KL, Garcia SM (2009) A fishery manager's guidebook. John Wiley & Sons Ltd., Chichester, UK.
FAO (2002) The State of World Fisheries and Aquaculture. Food and Agriculture Organization of the United Nationas, Rome.
Gurumayum SD, Choudhury M (2009) Fishing methods in the rivers of Northeast India. Indian Journal of Traditional Knowledge 8(2): 237–241.
Imchen A, Joglekar PP (2017) Traditional fishing practices among the Ao Nagas: a case study of Mangmetong Village, Nagaland. Heritage: Journal of Multidisciplinary Studies in Archaeology 5: 380–390.
Imsennaro L, Singh R (2018) Traditional livelihood practices of the Ao nagas of Nagaland. Heritage Explorers 17(8): 101–102.
Johnson DS (2006) Category, narrative, and value in the governance of small-scale fisheries. Marine Policy 30(6): 747–756.
Kinny A, Martemjen (2015) Socio-cultural practices and environmental management of Sumi Naga tribe. International Journal of Multidisciplinary Approach and Studies 2(4): 16–21.
Kirby MX (2004) Fishing down the coast: historical expansion and collapse of oyster fisheries along continental margins. Proceedings of the National Academy of Sciences 101(35): 13096–13099.
Kittinger JN, Finkbeiner EM, Ban NC, Broad K, Carr MH, ... Crowder LB (2013) Emerging frontiers in social-ecological systems research for sustainability of small-scale fisheries. Current Opinion in Environmental Sustainability 5(3–4): 352–357.
Kurien J (1998) Traditional ecological knowledge and ecosystem sustainability: new meaning to Asian coastal proverbs. Ecological Applications 8(sp1): S2–S5.
Martemjen (2017) Biodiversity conservation, indigenous knowledge and practices: a Naga perspective. Notion Press, Chennai.
Munilkumar S, Nandeesha MC (2007) Aquaculture practices in Northeast India: current status and future directions. Fish Physiology and Biochemistry 33(4): 399–412.
Saha B, Devi R, Kashyap D, Baruah DJ (2015) Perceived effectiveness of indigenous traditional fishing methods including gears and traps in Nagaon district of Assam. Indian Journal of Traditional Knowledge 14(1): 103–111.
Sarkar UK, Ponniah AG (2006) Evaluation of North East Indian fishes for their potential as cultivable, sport and ornamental fishes along with their conservation and endemic status. In: Ponniah AG, Sarkar UK (Eds) Fish biodiversity of Northeast India. National Bureau of Fish Genetic Resources, Lucknow, U.P. pp. 1–5.
Schonhut M, Kieveltiz V (1994) Participatory learning approaches- Rapid rural appraisal- an introductory guide. Springer Verlag, Berlin.
Sinha M (1994) Fish genetic resources of the northeastern region of India. Journal of Inland Fisheries Society of India 26(1): 1–19.
Van Andel T (2000) The diverse uses of fish-poison plants in Northwest Guyana. Economic Botany 54(4): 500–512.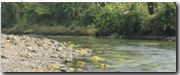 How to Cite
Kechu, M., & Pankaj, P. P. (2023). Traditional fishing methods practiced by Ao and Sumi tribes in Dikhu River of Nagaland, India. Journal of Fisheries, 11(2), 112202. https://doi.org/10.17017/j.fish.458
Section
Original Articles
Copyright (c) 2023 Journal of Fisheries
This work is licensed under a Creative Commons Attribution-NonCommercial-ShareAlike 4.0 International License.