Prevalence of diseases caused by Flavobacterium spp. and other opportunistic bacteria in carps of sewage-fed farms in West Bengal, India
Sudeshna Sarker

Department of Aquatic Animal Health, Faculty of Fishery Sciences, West Bengal University of Animal and Fishery Sciences, Chakgaria, Kolkata - 700094, India

Thangapalam Jawahar Abraham

Department of Aquatic Animal Health, Faculty of Fishery Sciences, West Bengal University of Animal and Fishery Sciences, Chakgaria, Kolkata - 700094, India

https://orcid.org/0000-0003-0581-1307

Avijit Patra

Department of Aquatic Animal Health, Faculty of Fishery Sciences, West Bengal University of Animal and Fishery Sciences, Chakgaria, Kolkata - 700094, India
Keywords:
Sewage-fed fish farm, carps, opportunistic pathogens, Flavobacterium spp., antibiotic sensitivity
Abstract
India is the second largest fish producing nation after China, contributing about 5.68% of the global fish production. The state West Bengal is occupying the second position in freshwater fish production after Andhra Pradesh. Although a number of constraints have been put forth, diseases and poor farm management are some of the most noticeable reasons for the reduced fish production in West Bengal. This study reports the prevalence of diseases caused by Flavobacterium spp. and other opportunistic bacteria in carps of sewage-fed farms in West Bengal. The bacteriological examination of the diseased carps revealed infections with different bacterial species and most of them were opportunistic pathogens. Flavobacteriosis, aeromoniasis, pseudomoniasis and other mixed bacterial infections, as confirmed by conventional biochemical tests and by VITEK 2 Compact system, were noted frequently. Antibiotic sensitivity of the opportunistic bacterial pathogens from the diseased carps indicated that some of these bacterial strains are resistant to potential human medicines like erythromycin, cotrimoxazole, oxytetracycline, nitrofurantoin, etc., which is a serious cause for concern. These results further present the fact that sewage-fed fish farms and the food fish from such systems may pose a serious public health risk from the antibiotic-resistant bacteria, if not handled properly.
References
Abraham TJ, Sarker S, Dash G, Patra A and Adikesavalu H. (2017) Chryseobacterium sp. PLI2 and Aeromonas hydrophila co-infection in pacu, Piaractus brachypomus (Cuvier, 1817) fries cultured in West Bengal, India. Aquaculture 473: 223–227.
Austin B and Austin DA (2012) Bacterial fish pathogens. Disease of farmed and wild fish, 5th edition. Springer, Heidelberg. 652 pp.
Bauer AW Kirby WMM, Sherris JC and Turck M (1966) Antibiotic susceptibility testing by a standardized single disc method. American Journal of Clinical Pathology 45(4): 493–496.
Bernardet JF, Hugo C and Bruun B (2006) The genera Chryseobacterium and Elizabethkingia. In: The prokaryotes pp. 638–676, Springer, New York.
Bertolini JM and Rohovec JS (1992) Electrophoretic detection of proteases from different Flexibacter columnaris strains and assessment of their variability. Diseases of Aquatic Organisms 12: 121–128.
Bloch KC, Nadarajah R and Jacobs R (1997) Chryseobacterium meningosepticum: an emerging pathogen among immunocompromised adults. Medicine (Baltimore) 76: 30–41.
Collins CH, Lyne PM, Grange JM and Falkinham III JO (2004) Collins and Lyne's Microbiological methods, 8th edition. Arnold, London. 456 pp.
Das MK (2018) Fish diseases in wastewater aquaculture and remedial measures. In: Jana B, Mandal R and Jayasankar P (eds), Wastewater management through aquaculture (pp. 139–159) Springer, Singapore.
Declercq AM, Boyen F, Van den, Broeck W, Bossier P, Karsi A, Haesebrouck F and Decostere A (2013) Antimicrobial susceptibility pattern of Flavobacterium columnare isolates collected worldwide from 17 fish species. Journal of Fish Diseases 36: 45–55.
Decostere A, Haesebrouck F, Devriese L and Ducatelle R (1996) Identification and pathogenic significance of Shewanella sp. from pond fish. Vlaams Diergeneeskd Tijdschr 65: 82–85.
Eden PA, Schmidt TM, Blakemore RP and Pace NR (1991) Phylogenetic analysis of Aquaspirillum magnetotacticum using polymerase chain reaction-amplified 16SrRNA-specific DNA. International Journal of Systematic Bacteriology 41(2): 324–325.
FAO (2018) The state of world fisheries and aquaculture 2018 - meeting the sustainable development goals. Food and Agriculture Organization of the United Nations, Rome.
FAO/OIE/WHO (2006) Report of a joint FAO/OIE/WHO expert consultation on antimicrobial use in aquaculture and antimicrobial resistance: Seoul, Republic of Korea, 13-16 June 2006, WHO, Geneva. 97 pp.
Farmer BD (2004) Improved methods for the isolation and characterization of Flavobacterium columnare. Master's thesis, Louisiana State University and Agricultural and Mechanical College.
Griffin BR (1992) A simple procedure for the identification of Cytophaga columnaris. Journal of Aquatic Animal Health 4: 63–66.
Hawke JP and Thune RL (1992). Systemic isolation and antimicrobial susceptibility of Cytophaga columnaris from commercially reared channel catfish. Journal of Aquatic Animal Health 4: 109–113.
Heil N (Ed) (2009) National wild fish health survey. Laboratory procedures manual, 5th edition. U.S. Fish and Wildlife Service, Warm Springs, GA.
Ibrahim MK, Galal A-MoneimM, Idriss M Al-Turk and Khalid D Al-Zhrany (2010) Antibiotic resistance in gram-negative pathogenic bacteria in hospitals' drain in Al-Madina Al-Munnawara. Journal of Taibah University for Science 3: 14–22.
Inglis V, Roberts RJ and Bromage NR (1993) Bacterial diseases of fish. Blackwell Scientific Publications, Oxford, England.
Loch TP and Faisal M (2015) Emerging flavobacterial infections in fish: a review. Journal of Advanced Research 6: 283–300.
Marks JE, Lewis DH and Trevino GS (1980) Mixed infection in the columnaris disease of fish. Journal of the American Veterinary Medical Association 177(9): 811–814.
Michel C, Matte-Tailliez O, Kerouault B and Bernardet JF (2005). Resistance pattern and assessment of phenicol agents' minimum inhibitory concentration in multiple drug resistant Chryseobacterium isolates from fish and aquatic habitats. Journal of Applied Microbiology 99(2): 323–332.
Mohammed HH and Arias CR (2015) Potassium permanganate elicits a shift of the external fish microbiome and increases host susceptibility to columnaris disease. Veterinary Research 46: 82.
Peix A, Rivas R, Mateos PF, Martinez-Molina E, Rodriguez-Barrueco C and Velazquez E (2003) Pseudomonas rhizosphaerae sp. nov., a novel species that actively solubilizes phosphate in vitro. International Journal of Systematic and Evolutionary Microbiology 53: 2067–2072.
Rajpakshe ADWR, Prasad KP, Mukherjee SC, Kundan K, Brahmachari RK, Meena CT and Kumar N (2012) In vitro sensitivity of three bacterial pathogens of koi carp (Cyprinus carpio L.) to certain antibiotics. Journal of Agricultural Science and Technology 2: 93–98.
Ray-Chaudhuri SI, Mukherjee I, Ghosh D, and Thakur AR (2012) East Kolkata wetland: a multifunctional niche of international importance. Online Journal of Biological Sciences 12(2): 80–88.
Ronald N, Jones MAI, Croco MA, Saller M and Beach KCK (1999) The SENTRY Antimicrobial Surveillance Program Participants (The Americas). Antimicrobial activity evaluations of gatifloxacin, a new fluoroquinolone: contemporary pathogen results from a global antimicrobial resistance surveillance program (SENTRY, 1997). Clinical Microbiology and Infection 5: 540–546
Sarker S, Abraham TJ, Banerjee S, Adikesavalu H, Patra A (2017) Characterization, virulence and pathology of Flavobacterium sp. KG3 associated with gill rot in carp, Catla catla (Ham.). Aquaculture 468: 579–584.
Sarker S, Patra A, Adikesavalu A, Abraham TJ (2016) Flavobacteriosis in cultured freshwater ornamental telescopic eye goldfish Carassius auratus. International Journal of Current Microbiology and Applied Sciences 5(4): 39–46.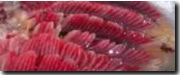 How to Cite
Sarker, S., Abraham, T. J., & Patra, A. (2019). Prevalence of diseases caused by Flavobacterium spp. and other opportunistic bacteria in carps of sewage-fed farms in West Bengal, India. Journal of Fisheries, 7(1), 663-670. https://doi.org/10.17017/j.fish.7
Section
Original Articles