Pathology of systemic multiple bacterial infections and peritonitis in hatchery-produced African catfish Clarias gariepinus (Burchell, 1822) larvae
Thangapalam Jawahar Abraham

Department of Aquatic Animal Health, Faculty of Fishery Sciences, West Bengal University of Animal and Fishery Sciences, Chakgaria, Kolkata, India

https://orcid.org/0000-0003-0581-1307

Harresh Adikesavalu

Department of Aquatic Animal Health, Faculty of Fishery Sciences, West Bengal University of Animal and Fishery Sciences, Chakgaria, Kolkata, India

https://orcid.org/0000-0002-2258-1470

Sayani Banerjee

Department of Aquatic Animal Health, Faculty of Fishery Sciences, West Bengal University of Animal and Fishery Sciences, Chakgaria, Kolkata, India
Keywords:
Aeromonas veronii, African catfish, Edwardsiella tarda, peritonitis, ruptured abdomen
Abstract
Diseases are the major problems that have a significant impact on African catfish Clarias gariepinus seed production. This study reports the necropsy, microscopy, bacteriology and histopathology of diseased catfish larvae that experienced mass mortalities (>80%). The gill filaments of diseased larvae revealed no ectoparasites. The intestines had no parasitic association. About 35 – 40% of the dead larvae had ruptured abdomen. The affected larvae had abdominal haemorrhages and disintegrated intestine with marked degenerative and inflammatory changes, which indicated peritonitis. Bacteria including Aeromonas veronii, Edwardsiella tarda and Pseudomonas putida were isolated from the haemorrhagic exudates of diseased catfish larvae. Histopathology demonstrated dense melanomacrophage aggregates in the spleen. The intestine had extensive degeneration, basophilic margination and disintegration of the mucosal layer. The kidney section suggested a suppurative infection with necrosis of haematopoietic tissue, inflammation of the epithelial tissue, vacuolar degenerations and hypoplastic haematopoietic tissue. Aeromonas veronii and E. tarda immersion challenge at 5×106 cells mL–1 yielded no mortalities under laboratory conditions. Nevertheless, the hatchery management measures and the laboratory analyses supported peritonitis with systemic multiple bacterial infections in the observed large-scale motilities of excessively fed larvae.
References
Abraham TJ, Mallick PK Adikesavalu H, Banerjee S (2015) Pathology of Edwardsiella tarda infection in African catfish Clarias gariepinus (Burchell 1822) fingerlings. Archives of Polish Fisheries 23: 141–148.
Abraham TJ, Mallick PK, Paul P (2018) African catfish Clarias gariepinus farming practices in North and South 24 Parganas districts of West Bengal, India. Journal of Fisheries 6(1): 579–586.
Abraham TJ, Paul P, Adikesavalu H, Patra A, Banerjee S (2016) Stenotrophomonas maltophilia as an opportunistic pathogen in cultured African catfish, Clarias gariepinus (Burchell, 1822). Aquaculture 450: 168–172.
Agius C, Roberts RJ (2003) Melano-macrophage centres and their role in fish pathology. Journal of Fish Diseases 26(9): 499–509.
Alagappan KM, Deivasigamani B, Kumaran V, Sakthivel M (2009) Histopathological alterations in estuarine catfish (Arius maculatus; Thunberg, 1792) due to Aeromonas hydrophila infection. World Journal of Fish and Marine Sciences 1(3): 185–189.
Ataguba GA, Annune PA Ogbe FG (2009) Induced breeding and early growth of progeny from crosses between two African clariid fishes, Clarias gariepinus (Burchell) and Heterobranchus longifilis under hatchery conditions. Journal of Applied Biosciences 14: 755–760.
Austin B, Austin DA (2012) Bacterial fish pathogens: disease of farmed and wild fish, fifth edition. Springer-Praxis in Aquaculture in Fisheries, Praxis Publication Ltd., Chichester, UK. 457 pp.
Basiita RK, Rajts F (2021) Better management practices for African catfish (Clarias gariepinus) spawning and fingerling production in the Democratic Republic of Congo. CGIAR Research Program on Fish Agri-Food Systems. Penang, Malaysia, Guidelines: FISH-2021-01. 24 pp.
Bharathkumar G, Abraham TJ (2013) Prevalence of transferable oxytetracycline resistance factors in Aeromonas hydrophila in fish hatcheries. Fishery Technology 50: 324–330.
Bharathkumar G, Abraham TJ (2015) Oxytetracycline resistant bacteria in Clarias gariepinus and Clarias batrachus larvae and the environment. Journal of Fisheries 3(1): 217–220.
Boon JH, Oorschot RWA, Henken AM, van Doesum JH (1987) Ruptured intestinal syndrome of unknown etiology in young African catfish, Clarias gariepinus (Burchell 1822), and its relation to the feeding level. Aquaculture 63: 283–300.
Coles BM, Stroud RK Sheggeby S (1978) Isolation of Edwardsiella tarda from three Oregon sea mammals. Journal of Wildlife Diseases 14(3): 339–341.
Collins CH, Lyne PM, Grange JM, Falkinham III JO (2004) Collins and Lyne's microbiological methods, eighth edition. Arnold, London, UK. 456 pp.
de Graaf GJ, Janssen JAL (1996) Artificial reproduction and pond rearing of the African catfish, Clarias gariepinus in Sub-Saharan Africa – a handbook. FAO Fisheries Technical Paper. No 362. FAO, Rome. 73 pp.
Eden PA, Schmidt TM, Blakemore RP, Pace NR (1991) Phylogenetic analysis of Aquaspirillum magnetotacticum using polymerase chain reaction-amplified 16S rRNA-specific DNA. International Journal of Systematic Bacteriology 41(2): 324–325.
El-Barbary MI, Hal AM (2017) Phenotypic and genotypic characterization of some Pseudomonas sp. associated with Burkholderia cepacia isolated from various infected fishes. Journal of Aquaculture Research and Development 8: 7.
FAO (2020) The state of world fisheries and aquaculture 2020 sustainability in action. FAO, Rome.
Faruk MAR, Patwary ZP, Hasan MM (2012) Clinical and histopathological investigations in exotic catfish Pangasianodon hypophthalmus (Sauvage, 1878) under culture condition. Indian Journal of Fisheries 59(4): 183–185.
Garcia NV, Iregui C, Hirono I (2012) Edwardsiellosis, common and novel manifestations of the disease: a review. Revista Colombiana Ciencia Animal 5(1): 82–90.
Heil N (2009) National wild fish health survey. Laboratory procedures manual, fifth edition. US Fish and Wildlife Service, Warm Springs, Georgia. 411 pp.
Hirai Y, Asahata-Tago S, Ainoda Y, Fujita T, Kikuchi K (2015) Edwardsiella tarda bacteremia. A rare but fatal water- and foodborne infection: Review of the literature and clinical cases from a single centre. Canadian Journal of Infectious Diseases and Medical Microbiology 26(6): 313–318.
Janda JM, Abbott SL (2010) The genus Aeromonas: taxonomy, pathogenicity, and infection. Clinical Microbiology Reviews 23(1): 35–73.
Janssen JAL (1987) Mass production of fry and fingerlings of African catfish Clarias gariepinus, Chapter 3. In: Delince GA, Campbell D, Janssen JAL, Kutty MN (Eds) Seed production. United Nations Development Programme, Food and Agriculture Organization of the United Nations and Nigerian Institute for Oceanography and Marine Research Project RAF/82/009, ARAC/87/WP/13.
Laith AR, Najiah M (2013) Aeromonas hydrophila: antimicrobial susceptibility and histopathology of isolates from diseased catfish, Clarias gariepinus (Burchell). Journal of Aquaculture Research and Development 5: 215.
Marimuthu K (2019) A short review on induced spawning and seed production of African catfish Clarias gariepinus in Malaysia. IOP Conference Series: Earth and Environmental Science 348: 012134.
Melaku H, Lakew M, Alemayehu E, Wubie A, Chane M (2017) Isolation and identification of pathogenic fungus from African catfish (Clarias gariepinus) eggs and adults in National Fishery and Aquatic Life Research Center Hatchery, Ethiopia. Fisheries and Aquaculture Journal 8: 213.
Meyer FP, Bullock GL (1973) Edwardsiella tarda, a new pathogen of channel catfish (Ictalurus punctatus). Applied Microbiology 25(1): 155–156.
Miyazaki T, Kaige N (1985) Comparative histopathology of edwardsiellosis in fishes. Fish Pathology 20: 219–227.
Paul P, Adikesavalu H, Banerjee S, Abraham TJ (2015) Antibiotic-resistant motile aeromonads induced septicemia in Philippine catfish Clarias batrachus (L) fingerlings. Croatian Journal of Fisheries 73(4): 170–175.
Pękala-Safińska A (2018) Contemporary threats of bacterial infections in freshwater fish. Journal of Veterinary Research 62: 261–267.
Reddy MR, Mastan SA (2013) Wohlfahrtiimonas chitiniclastica fulminant sepsis in Pangasius sutchi - first report. Turkish Journal of Fisheries and Aquatic Sciences 13: 753–758.
Roberts RJ (2012) Fish Pathology, fourth edition, Wiley-Blackwell, UK. 581 pp.
Sahoo PK, Mukherjee SC, Sahoo SK (1998) Aeromonas hydrophila versus Edwarsiella tarda: a pathoanatomical study in Clarias batrachus. Journal of Aquaculture 6: 57–66.
Shotts EB, Waltman II WD (1990) A medium for the selective isolation of Edwardsiella ictaluri. Journal of Wildlife Diseases 26: 214–218.
Uedeme-Naa B, Nwafili SA (2017) Influence of African catfish (Clarias gariepinus) brood stock size on fingerlings growth rate. Applied Science Reports 19(3): 85–88.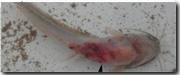 How to Cite
Abraham, T. J., Adikesavalu, H., & Banerjee, S. (2022). Pathology of systemic multiple bacterial infections and peritonitis in hatchery-produced African catfish Clarias gariepinus (Burchell, 1822) larvae. Journal of Fisheries, 10(1), 101204. https://doi.org/10.17017/j.fish.300
Section
Original Articles
Copyright (c) 2022 Journal of Fisheries
This work is licensed under a Creative Commons Attribution-NonCommercial-ShareAlike 4.0 International License.