Ichthyofaunal diversity and fishery status of Sutrapada Coast, Gujarat, India
Santosh Kumar Singh

Division of Marine and Freshwater Biology, Department of Zoology, Faculty of Science, The Maharaja Sayajirao University of Baroda, Vadodara – 390020, India

https://orcid.org/0000-0002-4861-4242

Kangkan Jyoti Sarma

Division of Fish and Fishery Biology, Department of Zoology, School of Biological Sciences, University of Science & Technology Meghalaya, Ri-Bhoi, Meghalaya-793101, India

Dhaval M. Bhatt

Division of Marine and Freshwater Biology, Department of Zoology, Faculty of Science, The Maharaja Sayajirao University of Baroda, Vadodara – 390020, India

Pradeep C. Mankodi

Division of Marine and Freshwater Biology, Department of Zoology, Faculty of Science, The Maharaja Sayajirao University of Baroda, Vadodara – 390020, India
Keywords:
Diversity, Sutrapada, fish, species composition
Abstract
Gujarat being a state having largest coastline and highest continental shelf in India represents diverse coastal habitats. Gujarat has vast potential of marine bioresources and offer considerable scope for marine fisheries. The ichthyofaunal diversity of Sutrapada, Gir Somnath district, Gujarat was investigated for a period of three years from June 2015 to June 2018 through the analysis of fish catch data of trawl fisheries and achieves of Fisheries Department, Central Institute of Fisheries Technology - Central Marine Fisheries Research Institute (CIFT-CMFRI), Marine Products Export Development Authority (MPEDA) and Commissioner Fisheries Office, Veraval. During this study period, 114 fish species belonging to 55 families and 93 genera were identified. The paper emphasizes the importance of further research on respective families for understanding of its distribution, ecology and conservation status.
References
Balan K, Sivaraman P, George KP, Ramachandran M (1987) Appraisal of the marine fisheries of Gujarat. CMFRI Special Publication (38): 1–51.
Day F (1878) The Fishes of India: being a natural history of fishes known to inhabit the seas and fresh waters of India, Burma and Ceylon. William Dawson and Sons Ltd., London. 778 pp.
Day F (1889a) Fauna of British India, including Ceylon and Burma Vol. 2. Taylor and Francis, London 2: 1–509.
Day F (1889b) Fauna of British India fishes. Taylor and Francis Ltd., London 1: 1–548.
Eschmeyer WN, Fong JD (2014) Species by Family/Subfamily (http://research.calacademy.org/research/ichthyology/catalog/SpeciesByFamily.asp). Electronic version accessed on 18 May 2021.
Frad, CMFRI (2018) Marine Fish Landings in India 2017. Technical report, CMFRI, Kochi. pp. 1–16.
Fricke R, Eschmeyer WN, van der Laan R (Eds) (2020) Eschmeyer's catalog of fishes: genera, species, references. http://researcharchive.calacademy.org/research/ichthyology/catalog/fishcatmain.asp. Electronic version accessed on 18 May 2021.
Galib SM (2015) Fish fauna of the Brahmaputra River, Bangladesh: richness, threats and conservation needs. Journal of Fisheries 3(3): 285–292.
Galib SM, Naser SMA, Mohsin ABM, Chaki N, Fahad MFH (2013) Choice of fishes for consumption by the rural people of Bangladesh. Trends in Fisheries Research 2(1): 20–23.
Galib SM, Rashid MA, Chaki N, Mohsin ABM, Joadder MAR (2016) Seasonal variation and community structure of fishes in the Mahananda River with special reference to conservation issues. Journal of Fisheries 4(1): 325–334.
Galib SM, Samad MA, Mohsin ABM, Flowra FA, Alam MT (2009) Present status of fishes in the Chalan Beel- the largest Beel (wetland) of Bangladesh. International Journal of Animal and Fisheries Science 2(3): 214–218.
Gopi KC, Mishra SS (2015) Diversity of marine fish of India. In: Marine faunal diversity in India, Academic Press. pp. 171–193.
IUCN (2021) The IUCN red list of threatened species. Version 2021-1. https://www.iucnredlist.org, accessed on 18 May 2021.
Jhingran VG (1983) Fish and fisheries of India, 1st edition. Hindustan Publishing Corporation, New Delhi. 660 pp.
Joshi A, Parmar EAR, Temkar GS, Desai AY, Bhatt AJ (2018) Ichthyofaunal biodiversity of Kharakuva fish market, Veraval, Gujarat, India. International Journal of Bio-Resource & Stress Management 9(5): 596–605.
Mohanraj G, Nair KV, Asokan PK, Ghosh S (2009) Status of marine fisheries in Gujarat with strategies for sustainable and responsible fisheries. Asian Fisheries Science 22(1): 285–296.
Mohsin ABM, Haque SMM, Galib SM, Fahad MFH, Chaki N, Islam MN, Rahman MM (2013) Seasonal abundance of fin fishes in the Padma River at Rajshahi district, Bangladesh. World Journal of Fish and Marine Sciences 5(6): 680–685.
Mohsin ABM, Hasan MM, Galib SM (2009) Fish diversity of community based fisheries managed oxbow lake (Bookbhara Baor) in Jessore, Bangladesh. Journal of Science Foundation 7(1): 121–125.
Murugan A, Namboothri N (2012) Finfishes of the Gulf of Mannar Biosphere Reserve: a field identification guide. Dakshin Foundation, Bangalore. 222 pp.
Sarkar UK, Jena JK, Singh SP, Singh AK, Rebello SC (2012) Documenting coastal fish biodiversity of India: status, issues and challenges. In: International Day for Biological Diversity Marine Biodiversity Uttar Pradesh State Biodiversity Board. pp. 22–28.
Sarwade JP, Khillare YK (2010) Fish diversity of Ujani wetland, Maharashtra, India. The Bioscan 1: 173–179.
Solanki JB, Bajaniya VC, Parmar HV, Tank KV, Parmar HL (2020) Availability of commercially important of marine fin fish and shell fish along Okha fish landing centre, Gujarat. Journal of Entomology and Zoology Studies 8(1): 637–640.
Talwar PK (1991) Inland fishes of India and adjacent countries. Vol. 1 and 2. CRC Press, Boca Raton.
Zhang JB, Hanner R (2011) DNA barcoding is a useful tool for the identification of marine fishes from Japan. Biochemical Systematics and Ecology 39(1): 31–42.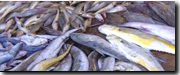 How to Cite
Singh, S. K., Sarma, K. J., Bhatt, D. M., & Mankodi, P. C. (2021). Ichthyofaunal diversity and fishery status of Sutrapada Coast, Gujarat, India. Journal of Fisheries, 9(2), 92204. https://doi.org/10.17017/j.fish.291
Section
Original Articles
Copyright (c) 2021 Journal of Fisheries
This work is licensed under a Creative Commons Attribution-NonCommercial-ShareAlike 4.0 International License.