First record of Prawn Leptocarpus potamiscus (Kemp, 1917) (Crustacea: Decapoda: Palaemonidae) from Karnataka, West Coast of India
Rajeshree Pednekar

Karnatak University Dharwad's, Department of Studies in Marine Biology, Post Graduate Centre, Faculty of Marine Biology, Kodibag, Karwar, Karnataka, India

https://orcid.org/0000-0002-5748-0143

Shivakumar Haragi

Karnatak University Dharwad's, Department of Studies in Marine Biology, Post Graduate Centre, Faculty of Marine Biology, Kodibag, Karwar, Karnataka, India

https://orcid.org/0000-0002-8525-9024
Keywords:
Estuary, Karnataka, Laptocarpus potamiscus, prawn, taxonomy
Abstract
The study reveals the first record of prawn species Laptocarpus potamiscus (Kemp, 1917) from Karnataka coast, West Coast of India. The genus Laptocarpus mainly described by their prominent key characters viz., presence of antennal spines, a prominent branchiostegal grooves and the absence of branchiostegal spines on the carapace. Globally, the genus Leptocarpus represents only three species with its Asian distribution, hitherto recorded from different localities across the Indian subcontinent. Specimen collected from Kali River estuary, Karwar being the first record from the Karnataka state. The morphological characters examined were similar to the description revealed for L. potamiscus by Kemp and Jayachandran. Hence, the study updates geographical distribution of L. potamiscucs from the Karnataka coast.
References
Jayachandran KV (1992) On the genus Leptocarpus Hol-thuis, 1950 with the description of a new species (Decapoda Palaemonidae). Mahasagar 25(2): 129–134.
Kemp S (1917) Note on crustacean Decapoda in the Indian museum, IX. Leander styliferus, Milne Edwards and related forms. Records of the Indian Museum. 13: 203–231.
Nguyen VX (1992) Review of Palaemoninae (Crustacea: Decapoda: Caridea) from Vietnam, Macrobrachium excepted. Zoologische Mededelingen 66(2): 19–47.
Pillai NN (1973) Larval development and rearing of the brackishwater shrimp, Leptocarpus potamiscus (Kemp, 1917) Decapoda, Palaemonidae. Journal of Marine Biological Association of India 15: 669–684.
Radhakrishnan EV, Deshmukh VD, Maheswaradu G, Jose J, Dineshbabu AP, ... Raju B (2012) Prawn fauna (Crustacea: Decapoda) of India - an annotated checklist of the Penaeoid, Sergestoid, Stenopodid and Caridean prawns. Journal of Marine Biological Association of India 54(1): 50–72.
Rajayalakshmi T (1961) Larval development of Palaemon lamarrei H. Milne Edw. and Leander fluminicola Kemp. Journal of Zoological Society of India 13(2): 220–237.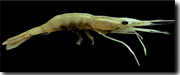 How to Cite
Pednekar, R., & Haragi, S. (2021). First record of Prawn Leptocarpus potamiscus (Kemp, 1917) (Crustacea: Decapoda: Palaemonidae) from Karnataka, West Coast of India. Journal of Fisheries, 9(2), 92401. https://doi.org/10.17017/j.fish.318
Section
Short Communications
Copyright (c) 2021 Journal of Fisheries
This work is licensed under a Creative Commons Attribution-NonCommercial-ShareAlike 4.0 International License.