New record of white-spotted pufferfish Arothron hispidus (Linnaeus, 1758) (Tetraodontiformes: Tetraodontidae) from West Bengal, India, compared with other Arothron species occurring in India
Subhrendu Sekhar Mishra

Estuarine Biology Regional Centre, Zoological Survey of India (ZSI), Gopalpur-on-Sea, Ganjam 761 002, India

Priyankar Chakraborty

Bharati Vidyapeeth Institute of Environment Education and Research (BVIEER), Bharati Vidyapeeth (Deemed to be University), Pune 411 043, India

Kranti Yardi

Bharati Vidyapeeth Institute of Environment Education and Research (BVIEER), Bharati Vidyapeeth (Deemed to be University), Pune 411 043, India
Keywords:
Arothron reticularis, Bay of Bengal, Chelonodontops, colouration, hybridisation, polychromatic colouration
Abstract
Two specimens of Arothron hispidus (Linnaeus, 1758) (111.7 – 112.8 mm in standard length), was collected in May 2019 from the Frasergunj fishing harbour in West Bengal, eastern India. Herein, we report this species for the first time from West Bengal. We have described the diagnostic features of the collected specimens and compared them with other Arothron species found in Indian waters.
References
Allen GR, Erdmann MV (2012) Reef fishes of the East Indies. Vols. I-III. Tropical Reef Research, Perth, Australia.
Allen GR, Steene RC (1988) Fishes of Christmas Island, Indian Ocean. Christmas Island Natural History Association, Christmas Island, Indian Ocean, Australia.
Bariche M, Constantinou C, Sayar N (2018) First confirmed record of the white-spotted puffer Arothron hispidus (Linnaeus, 1758) in the Mediterranean Sea. Bioinvasions Records 7(4): 433–436.
Barman RP, Mishra SS, Kar S, Mukherjee P, Saren SC (2007) Marine and estuarine fish fauna of Orissa. Records of the Zoological Survey of India. Occasional Paper No. 260: 1–186.
Bijukumar A, Raghavan R (2015) A checklist of fishes of Kerala, India. Journal of Threatened Taxa 7(13): 8036–8080.
Bourjon P, Chanet B (2017) Two cases of probable hybridisation between the pufferfishes Arothron meleagris (Anonymous 1798) and A. nigropunctatus (Bloch and Schneider 1801) on a fringing reef at Réunion Island. African Journal of Marine Science 39(4): 503–507.
Fricke R, Eschmeyer WN, Van der Laan R (Eds) (2021) Eschmeyer's catalog of fishes: genera, species, references. http://researcharchive.calacademy.org/research/ichthyology/catalog/fishcatmain.asp, accessed on 19 April 2021.
Froese R, Pauly D (Eds) (2021) FishBase. World Wide Web electronic publication. www.fishbase.org, version accessed on 21 April 2021.
Hobbs JPA, Frisch AJ, Allen GR, Van Herwerden L (2009) Marine hybrid hotspot at Indo-Pacific biogeographic border. Biology Letters 5(2): 258–261.
Jones S, Kumaran M (1980) Fishes of the Laccadive archipelago. The Nature Conservation and Aquatic Sciences Service, Kerala, India.
Jospeh TC, Goswami DB, Pradeep MA, Anupama TK, Parmar E, ... Ravishankar CN (2021) Pufferfish poisoning from Arothron stellatus: the first confirmed case in India with exact species identification. Toxicon 200: 180–182.
Matsuura K (1999) Taxonomic review of the puffers of the genus Arothron (Tetraodontiformes: Tetraodontidae) with a key to genera of the Indo-West Pacific puffers. In: Ninth Joint Seminar on Marine and Fisheries Sciences, Bali, Indonesia. pp. 125–140.
Matsuura K (2001) Tetraodontidae: puffers. In: Carpenter KE, Niem VH (Eds) FAO species identification guide for fishery purposes. The living marine resources of the Western Central Pacific. Volume 6. Bony fishes part 4 (Labridae to Latimeriidae), estuarine crocodiles, sea turtles, sea snakes and marine mammals. FAO, Rome, Italy.
Mishra SS, Chakraborty P, Saren SC, Sengupta A (2018) First record of Lagocephalus guentheri Miranda Riberio 1915 (Tetraodontiformes: Tetraodontidae) from the West Coast of India. Records of the Zoological Survey of India 118(1): 91–96.
Mishra SS, Gopi KC (2017) Fish diversity of Indian Sundarbans and its resources and research prospects. In: Chandra K, Alfred JRB, Mitra B, Chowdhury BR (Eds) Fauna of Sundarbans Biosphere Reserve. Zoological Survey of India, Kolkata, India.
Mogalekar HS, Canciyal J, Patadia DS, Sudhan C (2018) Marine and estuarine fish fauna of Tamil Nadu, India. Proceedings of the International Academy of Ecology and Environmental Sciences 8(4): 231–271.
Motomura H, Matsuura K (Eds) (2014) Field guide to fishes of Yoron Island in the middle of the Ryukyu Islands, Japan. The Kagoshima University Museum, Kagoshima and the National Museum of Nature and Science, Tsukuba, Japan.
Psomadakis PN, Matsuura K, Thein H (2018) Chelonodontops alvheimi, a new species of pufferfish (Actinopterygii: Tetraodontiformes: Tetraodontidae) from the Indian Ocean, with redescription of the rare pufferfish Chelonodontops leopardus (Day 1878). Ichthyological Research 66 (1): 49–56.
Rahman AKA (2005) Freshwater fishes of Bangladesh. Zoological Society of Bangladesh, Dhaka, Bangladesh.
Rajan PT, Sreeraj CR, Immanuel T (2013) Fishes of Andaman Andaman and Nicobar Islands: a checklist. Journal of Andaman Science Association 18(1): 47–87.
Randall JE, Bogorodsky SV, Rose JM (2012) Color variation of the puffer Arothron hispidus (Linnaeus) and comparison with A. reticularis (Bloch & Schneider). Aqua, International Journal of Ichthyology 18(1): 41–54.
Rao DV, Devi K, Rajan PT (2000) An account of Ichthyofauna of Andaman & Nicobar Islands, Bay of Bengal. Records of the Zoological Survey of India, Occasional Paper No. 178: 1–434.
Smith MM, Heemstra PC (1986) Smiths' sea fishes. Springer-Verlag, Berlin, Germany.
Su J, Tyler JC (1986) Diagnosis of Arothron nigropunctatus and A. melagris, two extremely polychromatic Indo-Pacific pufferfishes (Pisces: Tetraodontidae). Proceedings of the Academy of Natural Sciences of Philadelphia 138(1): 14–32.
Sujatha K, Padmavathi P (2015) Taxonomy of puffer fish (Pisces: Tetraodontidae) represented in the catches of Visakhapatnam, central eastern coast of India. Journal of the Marine Biological Association of India 57(2): 96–104.
Yennawar P, Mohapatra A, Tudu PC (2017) An account of ichthyofauna of Digha Coast, West Bengal. Records of the Zoological Survey of India 117(1): 4–21.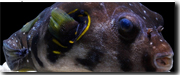 How to Cite
Mishra, S. S., Chakraborty, P., & Yardi, K. (2021). New record of white-spotted pufferfish Arothron hispidus (Linnaeus, 1758) (Tetraodontiformes: Tetraodontidae) from West Bengal, India, compared with other Arothron species occurring in India. Journal of Fisheries, 9(3), 93401. https://doi.org/10.17017/j.fish.332
Section
Short Communications
Copyright (c) 2021 Journal of Fisheries
This work is licensed under a Creative Commons Attribution-NonCommercial-ShareAlike 4.0 International License.