Two new records of bivalve (Mollusca) from Sonadia Island, Bangladesh
Parsha Shanjana Brishti

Sher-e-Bangla Agricultural University, Aquatic Bioresource Research Lab (ABR Lab), Department of Fisheries Biology and Genetics, Dhaka-1207, Bangladesh; Jahangirnagar University, Department of Zoology, Savar, Dhaka-1342, Bangladesh

Kazi Sonia Sultana

Sher-e-Bangla Agricultural University, Aquatic Bioresource Research Lab (ABR Lab), Department of Fisheries Biology and Genetics, Dhaka-1207, Bangladesh

Md. Jayedul Islam

Sher-e-Bangla Agricultural University, Aquatic Bioresource Research Lab (ABR Lab), Department of Fisheries Biology and Genetics, Dhaka-1207, Bangladesh

Shilpi Sarkar

Sher-e-Bangla Agricultural University, Aquatic Bioresource Research Lab (ABR Lab), Department of Fisheries Biology and Genetics, Dhaka-1207, Bangladesh; Jahangirnagar University, Department of Zoology, Savar, Dhaka-1342, Bangladesh

Md. Baki Billah

Jahangirnagar University, Department of Zoology, Savar, Dhaka-1342, Bangladesh

Kazi Ahsan Habib

Sher-e-Bangla Agricultural University, Department of Fisheries Biology and Genetics, Faculty of Fisheries, Aquaculture and Marine Science, Dhaka-1207, Bangladesh

https://orcid.org/0000-0002-8989-5175
Keywords:
Bivalvia, first record, morphological identification, Tellinides timorensis, Vepricardium coronatum
Abstract
The Sonadia Island, located at the south-east coast of Bangladesh, comprises a wide variety of wetland habitats including mudflats, sand dunes and mangroves which made this island a favoured habitat for diversified molluscan fauna. This paper deals with the new distributional record of two species of marine Bivalvia in Bangladesh- Tellinides timorensis Lamarck, 1818 and Vepricardium coronatum (Schröter, 1786) belonging to the family Tellinidae and Cardiidae respectively. Analysis of taxonomy, diagnosis of shell, geographic distribution and habitat, illustrations of each species and identification characteristics were presented in this paper.
References
Afshar F (1969) Taxonomic revision of the superspecific groups of the Cretaceous and Cenozoic Tellinidae. Geological Society of America. p. 198.
Ahmed ATA (1990) Studies on the identity and abundance of molluscan fauna of the Bay of Bengal. Bangladesh Agricultural Research Council. p. 86.
Arefin MS, Hossain MK, Hossain MA (2017) Plant diversity of Sonadia Island an ecologically critical area of South-East Bangladesh. Bangladesh Journal of Plant Taxonomy 24(1): 107–116.
Asadi MA, Iranawati F, Andini AW (2018) Ecology of bivalves in the intertidal area of Gili Ketapang Island, East Java, Indonesia. Aquaculture, Aquarium, Conservation & Legislation 11(1): 55–65.
Carpenter KE, Niem VH (1998) FAO species identification guide for fishery purposes. The living marine resources of the western Central Pacific: seaweeds, corals, bivalves and gastropods. FAO, Rome. p. 686.
Coan EV, Kabat AR (2012) The malacological works and taxa of Sylvanus Hanley (1819–1899). Malacologia 55(2): 285–359.
Dey A (2006) Contribution to the knowledge of Indian marine molluscs (part-IV) family Tellinidae. Records of the Zoological Survey of India 249: 1–124.
Faruk MAR (2012) Mollusc in Bangladsh coast: abundance, use and marketing. Lambert Academic Publishing, Germany. 65 pp.
GBIF (2019a) Tellinides timorensis (Lamarck, 1818) in GBIF backbone taxonomy. Checklist dataset accessed via GBIF.org on 10 April 2020.
GBIF (2019b) Vepricardium coronatum (Schröter, 1786) in GBIF Backbone Taxonomy. Checklist dataset accessed via GBIF.org on 10 April 2020.
Gravely FH (1942) Shells and other animal remains found on the Madras Beach. II.-Snails. etc. (Mollusca Gastropoda). Bulletin of the Madras Government Museum.
Hossain MS, Sarifuzzaman MS, Chowdhury SR, Chowdhury MSN, Sarkar S (2014) Sea shell of Bangladesh: marine gastropod and bivalve molluscs biodiversity. Centre for Coast, Climate and Communities (Tetra–C). p. 44.
Islam MR, Nirob SS, Molla MHR, Rahman K, Haque MM, ... Alom MZ (2019) New records of two non-native clam species (Bivalvia: Cardiidae) from the coastal waters of Bangladesh. Annual Research & Review in Biology 33(6): 1–8.
Kazmi QB (2018) Marine molluscan fauna of the Pakistani coastal waters. BCC and T Press, University of Karachi, Pakistan. 455 pp.
Knudsen J, Hylleberg J (1999) The species described by Lorentz Spengler in his" over den toskallede slaegt hiertemuslingen, cardiumlinnei", in 1799. A translation into English. Phuket Marine Biological Center Special Publications 19(2): 413–444.
Majilis ABK, Islam MA, Khasru MH, Ahsan MK (2013) Protected to open basin depositional system: an appraisal for the late quaternary evolution of the Moheshkhali-Kutubdia coastal plain, Bangladesh. Bangladesh Journal of Geology 26: 64–77.
Palomares MLD, Pauly D (2020) Tellina timorensis Lamarck, 1818. SeaLifeBase. World Wide Web electronic publication. www.sealifebase.org, version (12/2019). Accessed on 26 April 2020.
Rao NS (2017) Indian seashells: part-2 bivalvia. Zoological Survey of India. 275 pp.
Sarker A, Baki MA, Biswas MK, Dey D, Masud AA (2014) Marine gastropods and bivalves of Saint Martin's Island in the Bay of Bengal. The Festschrift on the 50th Anniversary of The IUCN Red List of Threatened Species TM, 75.
Shahabuddin AM, Wahab MA, Miah MI, Salam MA (2010) Abundance, distribution and culture potentials of three commercially important mollusks species along the coast of Bay of Bengal. Research Journal of Agriculture and Biological Sciences 6(6): 754–762.
Shamsuddoha M, Chowdhury RK (2007) Climate change impact and disaster vulnerabilities in the coastal areas of Bangladesh. COAST Trust, Dhaka.
Siddiqui KU, Islam MA, Kabir SMH, Ahmad ATA, Rahman AKA, Haque EU, Ahmed ZU, Begum ZNT, Hassan MA, Khondkar M, Rahman MM (Eds) (2007) Encyclopedia of flora and fauna of Bangladesh. Volume 17 Molluscs. Asiatic Society of Bangladesh, Dhaka. pp. 288–307.
Simone LRL, Wilkinson S (2008) Comparative morphological study of some Tellinidae from Thailand (Bivalvia: Tellinoidea). The Raffles Bulletin of Zoology 18: 151–190.
Sowerby GB (1847) Thesaurus conchyliorum, or, monographs of genera of shells. 438 pp.
Tudu PC, Dipanjan Ray AM (2017) An account of molluscan fauna of Digha Coast, Bay of Bengal. Conference on the role of biodiversity and natural resources in sustainable development at Bajkul Milani Mahavidyalaya. lSBN: 978-93-84241-25-4
Tudu PC, Ghorai N, Yennawar P, Balakrishnan S (2018a) Marine and estuarine mollusc of West Bengal coast: an overview. Records of the Zoological Survey of India 118(3): 217–241.
Tudu PC, Yennawar P, Ghorai N, Tripathy B, Mohapatra A (2018b) An updated checklist of marine and estuarine mollusc of Odisha coast. http://nopr.niscair.res.in/handle/123456789/44778
van der Meij SET, Moolenbeek RG, Hoeksema BW (2009) Decline of the Jakarta Bay molluscan fauna linked to human impact. Marine Pollution Bulletin 59: 101–107.
Vidal J (2000) Genus Vepricardium Iredale 1929 (Bivalvia, Cardiidae) with description of a new species from Thailand, Vepricardium albohama Tumhylleberg & Vidal. Phuket Marine Biological Center Special Publication 21(2): 447–464.
Voskuil RPA, Onverwagt WJH (1988) Studies on Cardiidae. Gloria Mazris 27: 86–91.
WoRMS (2020) World Register of Marine Species. http://www.marinespecies.org, Access on 1 March 2020.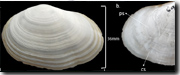 How to Cite
Brishti, P. S., Sultana, K. S., Islam, M. J., Sarkar, S., Billah, M. B., & Habib, K. A. (2021). Two new records of bivalve (Mollusca) from Sonadia Island, Bangladesh. Journal of Fisheries, 9(2), 92203. https://doi.org/10.17017/j.fish.299
Section
Original Articles
Copyright (c) 2021 Journal of Fisheries
This work is licensed under a Creative Commons Attribution-NonCommercial-ShareAlike 4.0 International License.